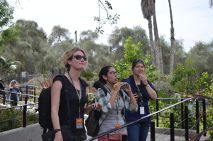 © Dieter Lukas
Corina, Luisa, and Christin are observing a grackle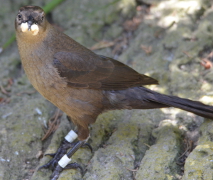 © Corina Logan
Meet Charlie (female), our first tagged great-tailed grackle!
Want to join the grackle team?
The Grackle Project started in Santa Barbara in 2014 to investigate avian cognitive abilities in the lab and field. We set up a new field site at Arizona State University in 2017 to understand the role of behavioral flexibility in invasion success.

We track individually identified (through unique color leg band combinations) grackles using focal follow protocols to gather behavioral data, and we bring some grackles into aviaries temporarily to give them choice tests. If you are interested in obtaining research experience with The Grackle Project, please see the application instructions below, click the links at the top of the page to learn more about the project, and apply. As biologists, we know the importance of diversity and we encourage applications from individuals belonging to groups that are traditionally under-represented in the sciences.

Arizona State University undergrads: Participation in this project could count toward your degree requirements (Research Electives) because you would be able to obtain research credit (BIO/MIC/MBB 310, 495 or 499; see here and here for more details).

Required qualifications:
Interest in learning how to conduct bird behavior research.
Ability to work outside in the Arizona heat using the project's binoculars and walk sometimes extensively to follow the birds.
Must collaborate well in teams.
Must be skilled at detail-oriented work.

To apply:
Undergraduates who wish to apply. . .
Please email Dr. Corina Logan (corina_logan [at] eva.mpg.de) an initial inquiry with your availability to work on the project (Mon-Fri 6a-4p).
If your availability fills gaps in our current student's schedules, then please email Corina your application materials: cover letter, CV, and unofficial transcripts. In the cover letter, discuss how you meet the required qualifications and explain your motivation for applying for this position.