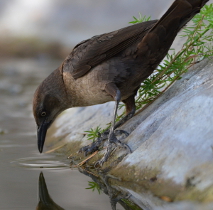 © Corina Logan
Great-tailed grackle female at the Santa Barbara Zoo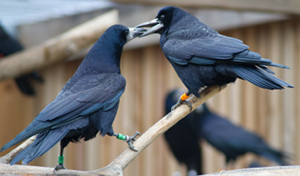 © Julia Leijola
Rooks bill twining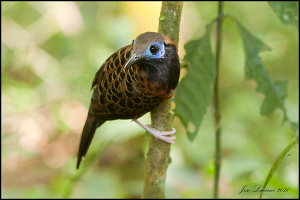 © Jose Luciani
Ocellated antbird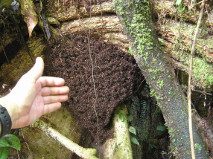 © Johel Chaves-Campos
Army ant bivouac
MY RESEARCH

Does innovation indicate behavioral flexibility?
Bird brain was considered an insult until a recent discovery that bird brains have an area that performs functions similar to that of the mammalian neocortex (the cognitive processing center). Researchers have begun looking for, and finding, avian intelligence in the large-brained species: crows make and use tools, rooks cooperate to get food, and western scrub-jays plan for the future. But is such intelligence restricted to species with large brains? Innovations (novel foraging techniques) are assumed to indicate behavioral flexibility (which is assumed to be a form of complex cognition) and the number of innovations a species has increases with relative brain size. This project investigates the link between innovation and relative brain size (corrected for body size) in a non-innovative bird with an average relative brain size, the great-tailed grackle (Quiscalus mexicanus). I compare grackle cognitive performance with that of innovative, large-brained New Caledonian crows (Corvus moneduloides) to test this assumption and begin to elucidate the benefits provided by large brains. I conduct additional behavioral, genetic, and immune system research on grackles in the wild to understand how and why their cognitive abilities evolved. Investigating how these abilities are used in their daily lives will indicate which factors shaped their intelligence.

Logan CJ. 2016. Behavioral flexibility and problem solving in an invasive bird. PeerJ 4:e1975.